Keto Seafood Paella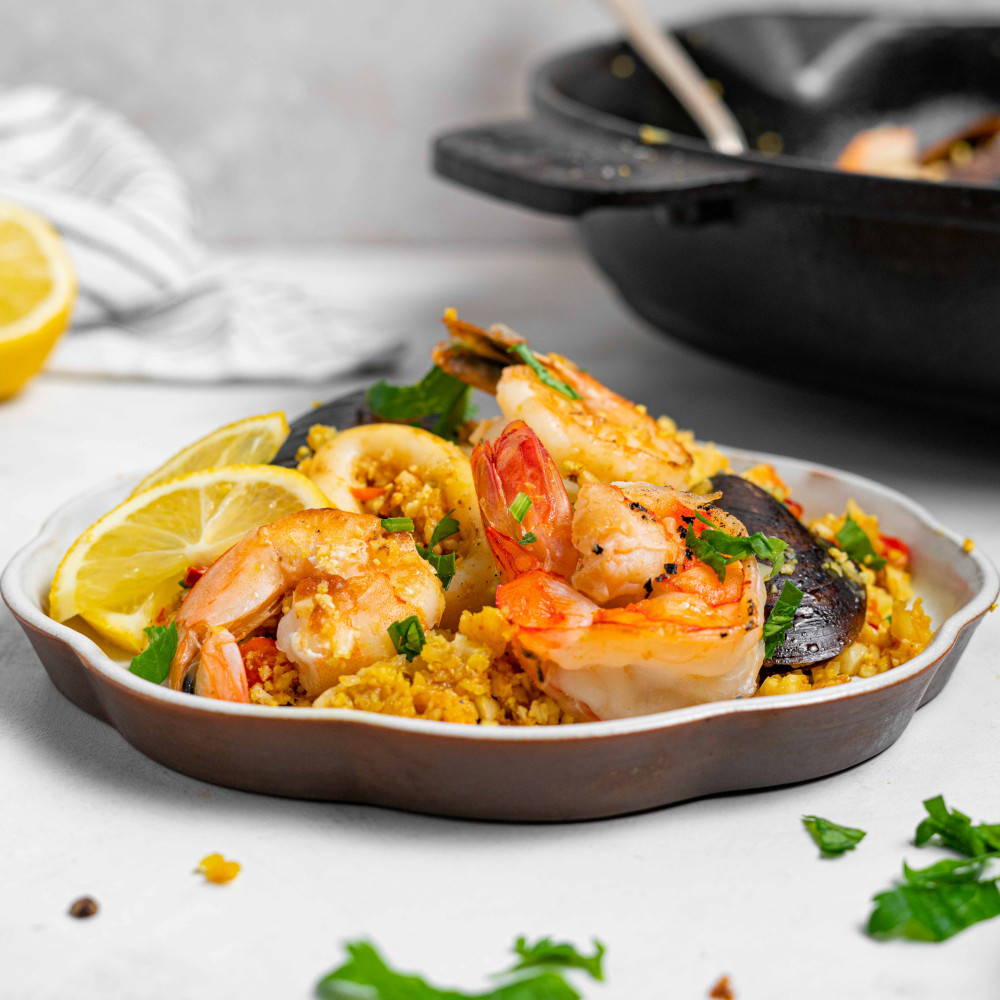 Prep time: 15 mins
Cook time: 30 mins
Total time: 45 mins
Difficulty: Easy
Serves: 3
    Nutritional info:
Calories: 287 kcal
Total carbs: 11g
Fibre: 5g
Net carbs: 6g
Fat: 21g
Protein: 17g
---
Paella is a popular dish in Spain, particularly in Valencia. It's an impressive dish that combines saffron-infused short-grain rice with meat, seafood, and vegetables and is served in a single pan.
This dish, like those from other countries, is very special because it brings everyone to the table and always creates beautiful memories.
Now I'm thrilled to share my grain-free and low-carb version of this popular and delectable Valencian dish with you.
The flavours are identical, and the texture of the cauliflower rice is perfect. It's a real show-stopper.
This recipe will not disappoint if you're looking for a low carb paella that tastes like the traditional paella.
The secret to making this low-carb paella taste as close to traditional paella as possible is to avoid using any liquid or broth. Cauliflower does not absorb water like rice does. You'll be surprised at how similar the flavour is to traditional paella.
This authentic, grain-free, and low-carb Spanish seafood paella recipe is packed with Spanish flavours and, believe it or not, it's very easy to make.
Not a fan of seafood? No problem. Replace the seafood with chicken and chorizo. De Nada!
1 medium head cauliflower (400g raw cauliflower riced)
4 tablespoons olive oil
12 medium prawns (peeled and deveined, tail on)
115g red bell pepper, diced
100g squid, cubed or rings
10g spring onions (only white parts) , sliced
2 cloves of garlic, minced
100g tomatoes, diced (seeds discarded)
Salt and black pepper to taste
1/4 teaspoon chili powder
1/2 teaspoon smoked paprika
1/2 teaspoon turmeric
8 medium mussels (scrubbed clean)
Handful of chopped parsley, for garnish
Lemon slices, for garnish
Cut your cauliflower into florets and wash it in a cold running water.
Using a clean or paper towel, pat it dry. Pulse in a food processor to make rice-like pieces. This only takes a 15-20 seconds (you may want to do it in a few batches so as not to overcrowd your processor bowl). Set aside.
Prepare your vegetables, seafood and set aside.
Heat half of olive oil in a paella pan or large pan in a medium high heat and fry off your prawns for 1 minute per side, remove, and set aside.
Add the remaining olive oil in the same pan. Toss the bell pepper (about 2 minutes), then move to the edge of the pan and add the calamari. Cook for another 1 minute, then move to the edge. Add the onion and minced garlic and stir until onion is Add the tomatoes and cook until soft and pulpy. Sprinkle your paprika, turmeric, chili powder, salt, and pepper, and mix everything together. (cook for about 2-3 minutes)
Stir in the cauliflower rice until it is well combined. Test and add more salt if needed. Reduce the heat to low and add the shrimp back along with the fresh mussels to the pan (spread it evenly around the pan and do not stir). Cover the pan with tin foil and cook for about 8-10 minutes, then remove the pan from the heat and let it rest for about 5 minutes.
Remove the foil paper (discard any unopened mussels) and serve, garnished with lemon slices and freshly chopped parsley.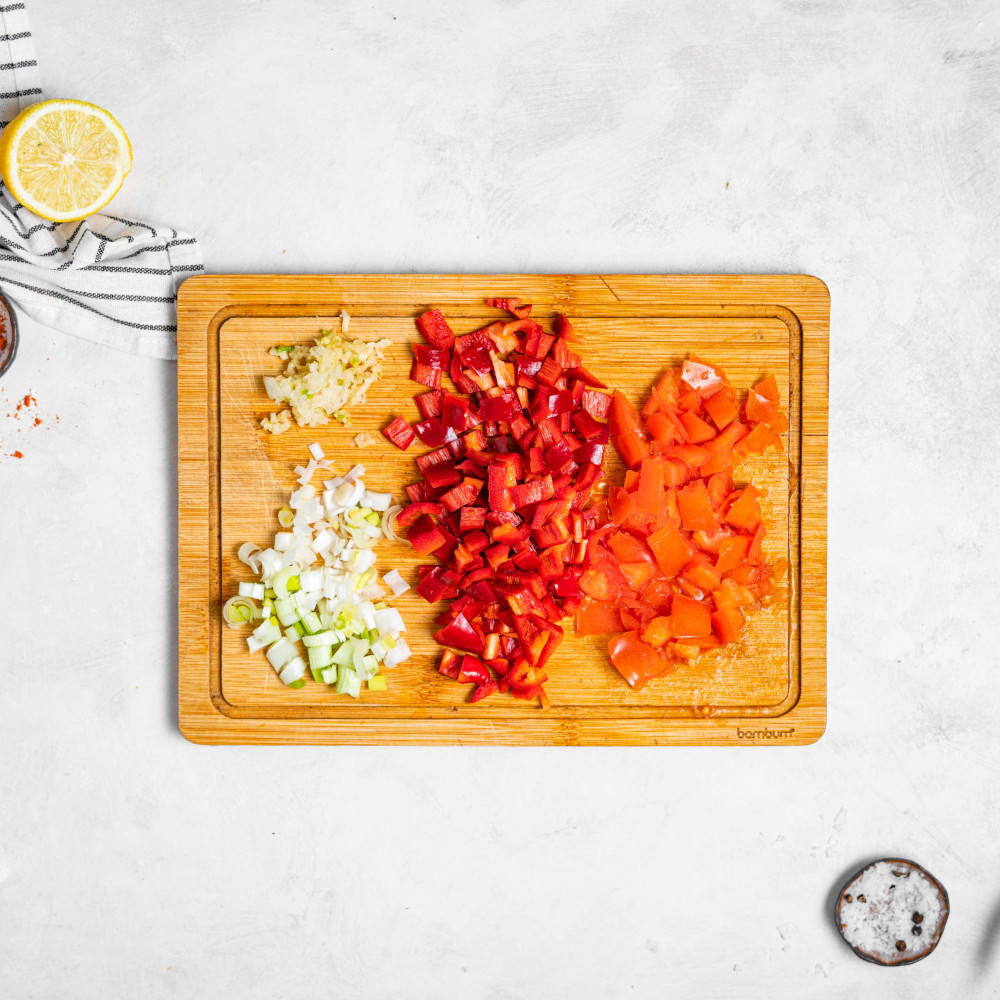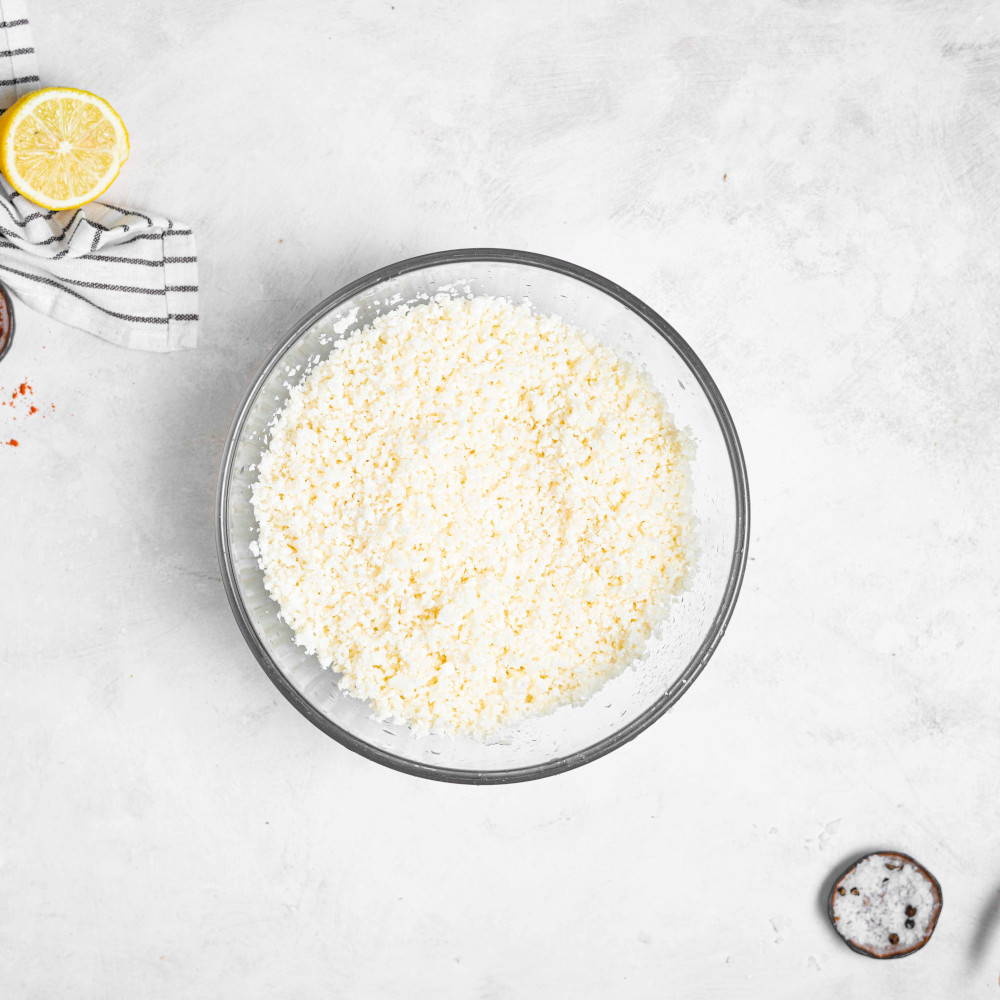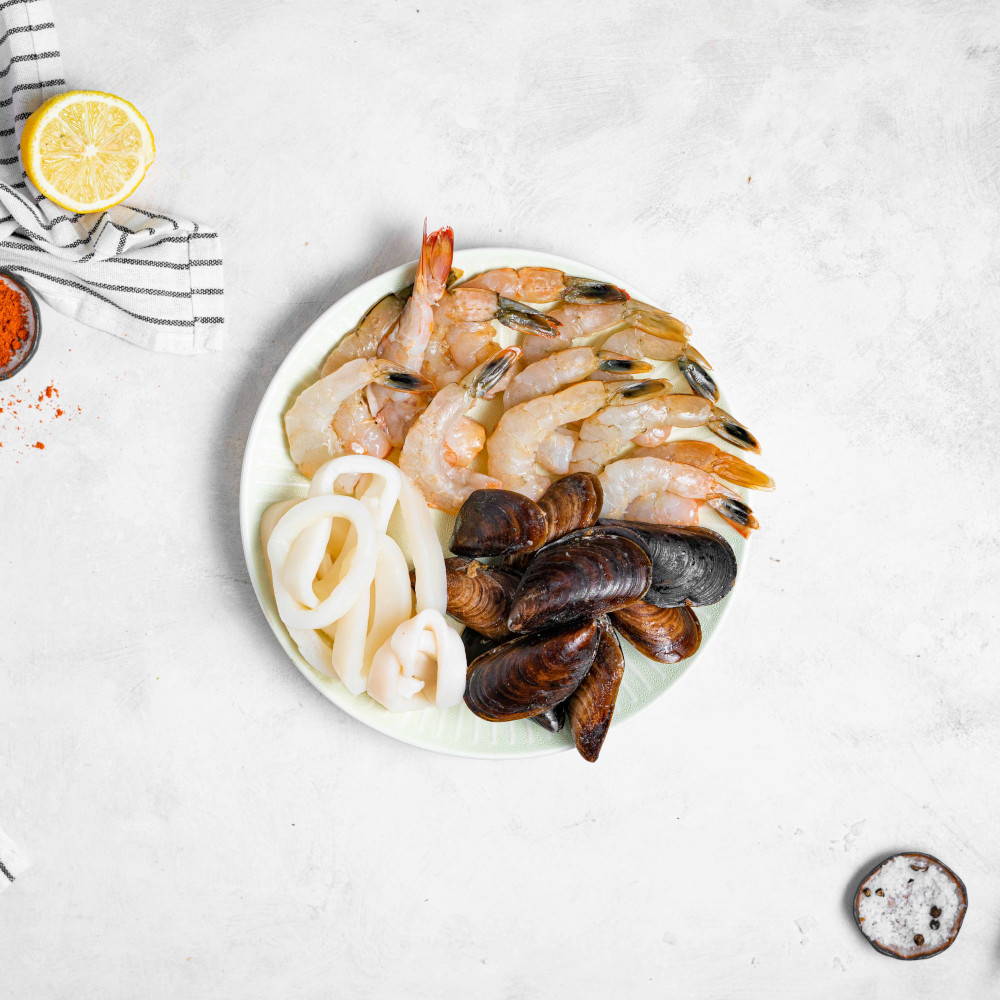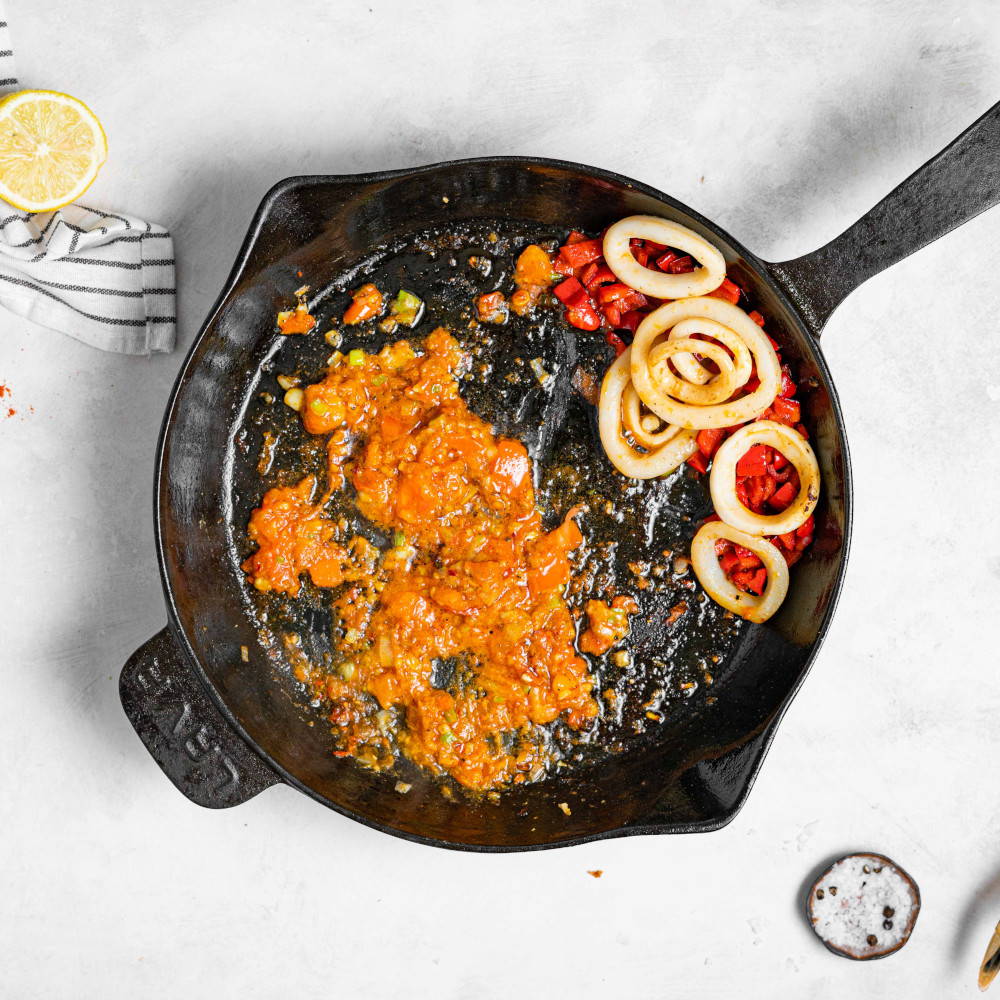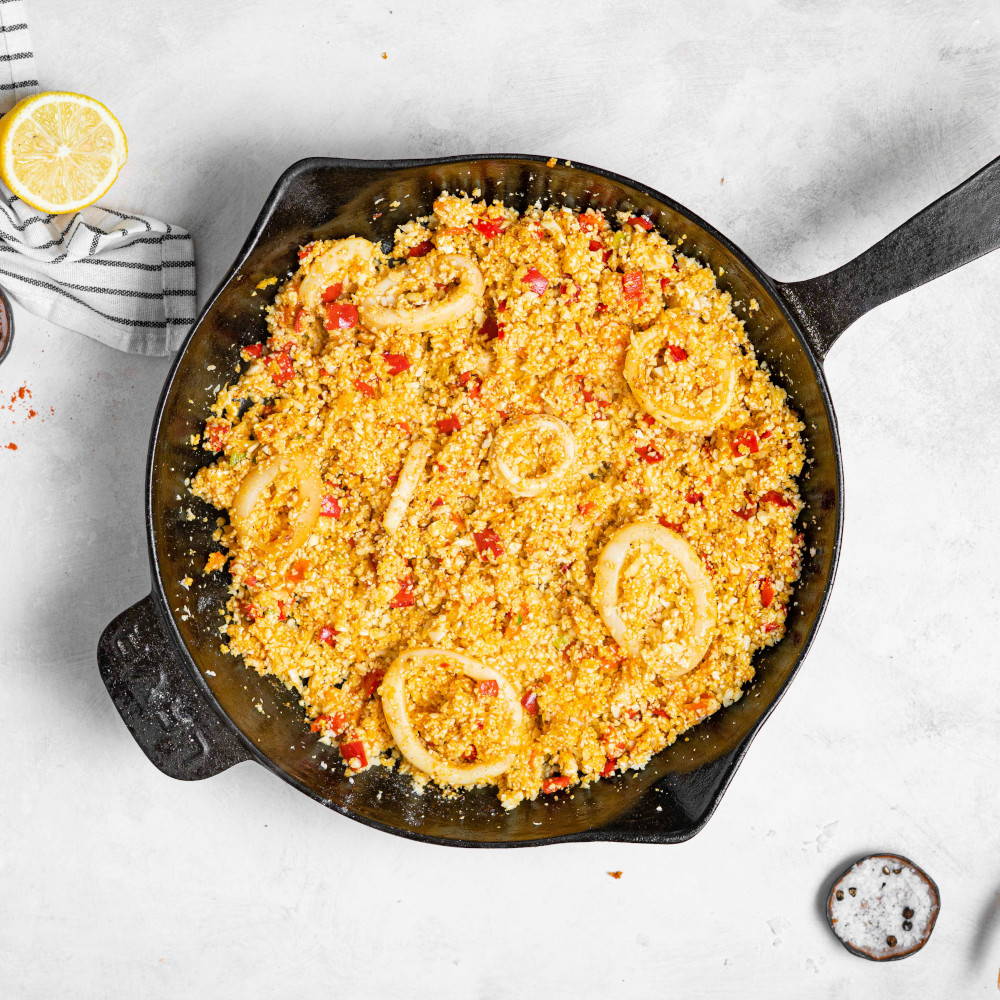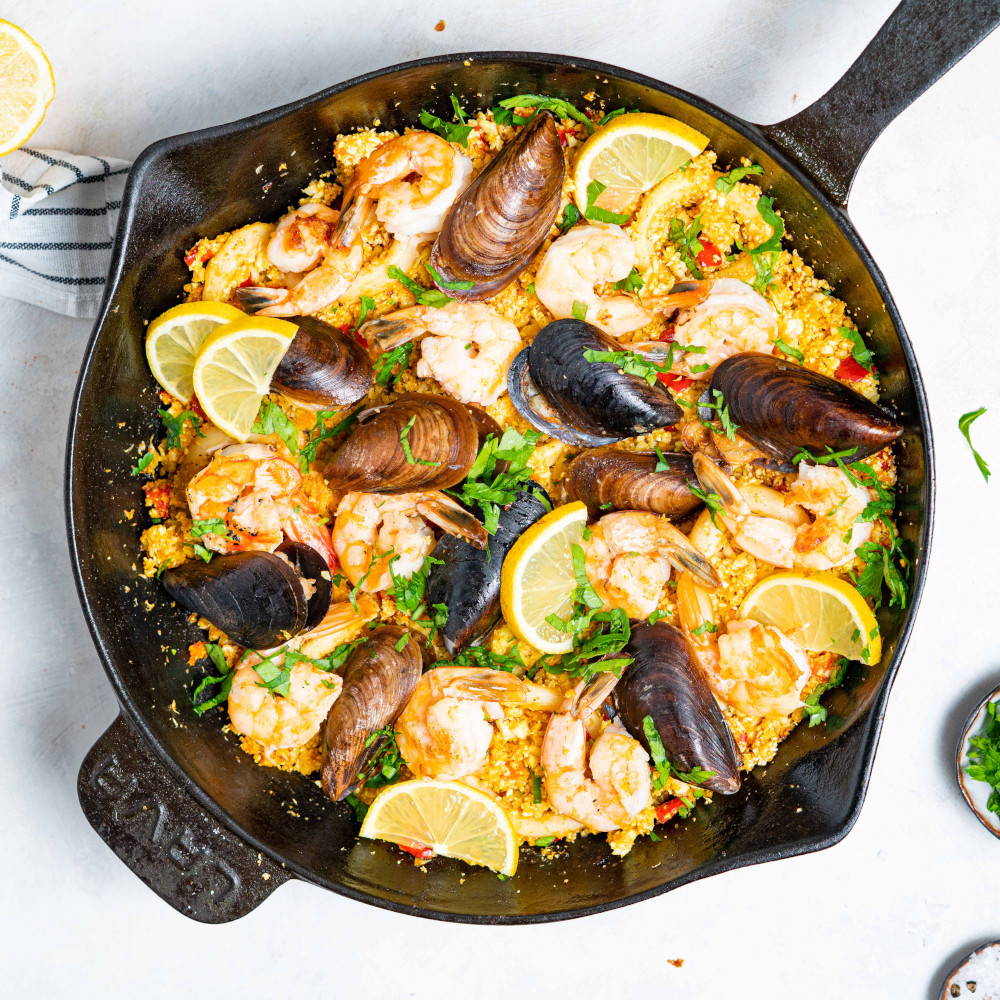 For vegetarian paella, omit the meat and seafood and replace them with extra vegetables such as artichokes, green beans, mushrooms, olives, and asparagus. Along with the bell peppers, add the vegetables in step five of the recipe.